THE ARRIVAL OF THE MEXICAN AIRLINE VIVA AEROBUS IN ECUADOR IS ANNOUNCED WITH THE NEW ROUTE QUITO – CANCUN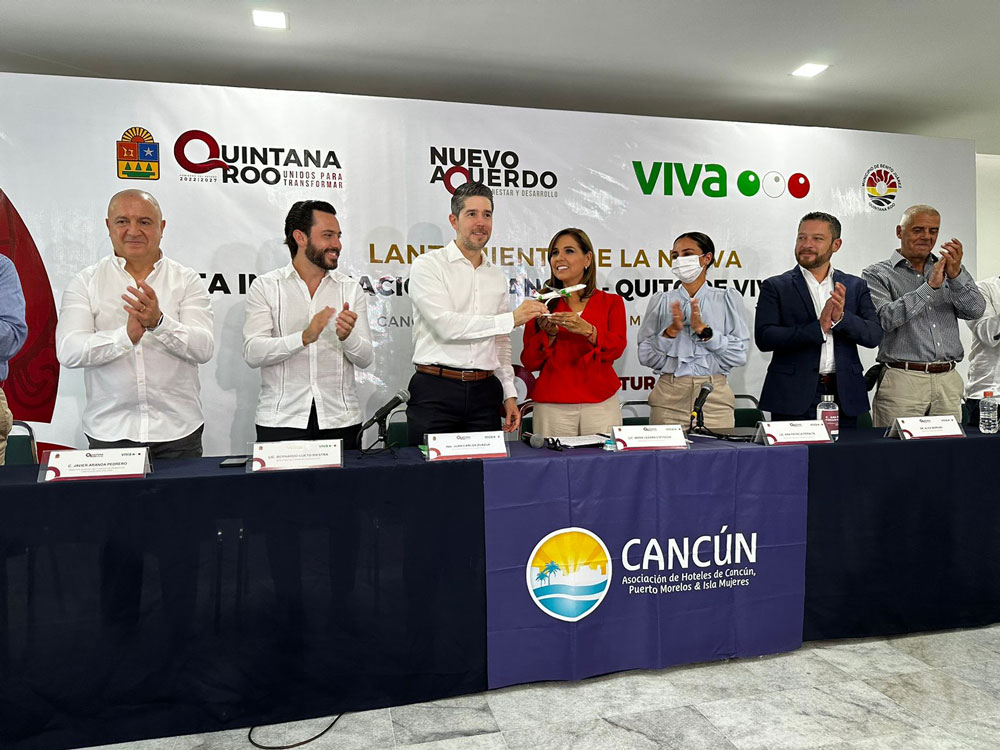 For the first time Quito, Ecuador is connected directly and non-stop with Cancun, Mexico.
The route will begin operations on June 16 with 3 flights a week.
Tickets, already on sale, offer prices starting at USD $89 plus taxes for a single trip.
Viva Aerobus also offers connections from Cancun to 18 destinations within Mexico.
The Ministry of Tourism of Ecuador; Quito Tourism; the State Government of Quintana Roo, Mexico; Quiport, operator of Quito International Airport; and Grupo Aeroportuario del Sureste (ASUR), operator of Cancun International Airport, celebrated the launch of the new Quito-Cancun international route operated by the ultra-low cost Mexican airline, Viva Aerobus. This is a unique service that will currently connect the Ecuadorian capital directly and non-stop with one of the most iconic sun and beach destinations in Mexico.
The Governor of Quintana Roo, Mara Lezama Espinosa, expressed that the growing connectivity offered by Viva in Cancun further strengthens the popularity of these Mexican beaches nationally and internationally. "All of us in Quintana Roo are very excited to receive many more Ecuadorian visitors so that they can discover our endless natural, cultural, historical, gastronomic, and recreational offer," he mentioned.
The route will begin operations on June 16 with three flights a week. Tickets, already on sale, offer prices starting at USD $89 plus taxes for a single trip. Passengers will also have the opportunity to fly in the youngest fleet in Mexico made up of Airbus A320 and A321 aircraft with an average age of only 5.28 years.
"Welcome Long Live Aerobus! We are convinced that this new route marks a before and after in the air connectivity of the Ecuadorian capital. It is one more step that brings us closer to our mission of turning Ecuador into a leading and competitive tourist destination in all of Latin America," said Niels Olsen, Minister of Tourism of Ecuador.
"We thank Viva Aerobus for building this beneficial bridge for
both countries and cities. We want more Mexicans in Quito so that they have the opportunity to learn about its extraordinary cultural richness and thus exceed our visitor goal set for this year," said María Cristina Rivadeneira, General Manager of Quito Turismo.
These new flights, with an average duration of 4 hours, will serve an air market with great potential, making more than 58,000 seats available to passengers per year. On the one hand, according to the most recent information from the Ministry of Tourism of Mexico, Ecuador is among the 25 countries that generate the greatest flow of visitors by air to Mexico.
On the other hand, according to what was reported by the Municipality of Quito regarding tourism in 2022, Mexico ranked sixth among the countries that sent more tourists to Ecuador.
In order to meet this need for air connectivity between the two countries, Viva Aerobus will land in Quito with a proven experience of 16 years of operations in Mexico, more than 100 million passengers transported, close to 4,000 collaborators and a service that combines low prices, new planes and point to point flights. As a result of this value proposition, Viva Aerobus has positioned itself as one of the Mexican airlines with the highest growth rate in terms of passengers, with an expanding route network and a comprehensive connectivity offer.
"We love witnessing the growth and commitment of Viva Aerobus in Cancun, a city where more than 25 routes operate, being our natural allies to make this destination even more accessible and that our visitors continue to increase year after year," said Carlos Trueba Coll, Director of Cancun Airport.
"At Quito International Airport, recognized worldwide for its management, service and infrastructure, we are 100% prepared to receive this new Mexican airline that without a doubt, will mark a milestone for the dynamism and passenger traffic in our capital with an unprecedented route", declared Ramón Miró, President and CEO of Quiport.
Regarding this unique service that Viva Aerobus will provide, the airline also highlights that this new route not only connects two cities, but it also makes available to Ecuadorian passengers a wide range of flights that connect Cancun with 18 destinations within Mexico.
"We are full of enthusiasm to arrive in this beautiful country and to be able to serve its passengers with customer-focused service, a modern fleet and low prices so that people can get the most out of their trips, while favoring the local economic benefit. Thank you very much to the Ecuadorian authorities who have given us a warm welcome and to Quintana Roo for always opening the doors for us to continue growing in one of Mexico's flagship sun and beach destinations," said Juan Carlos Zuazua, General Director of Viva Aerobus. "With Viva Aerobus, Ecuador and Mexico couldn't be closer," he said.
Passengers can purchase their tickets on the official Viva airline website: at VivaTiendas (Mexico), on the Viva App or by calling the Call Center (LADA toll-free) 0181 82 150 150.