Quiport obtains the Sustainable Quito Metropolitan Environmental Distinction for the third time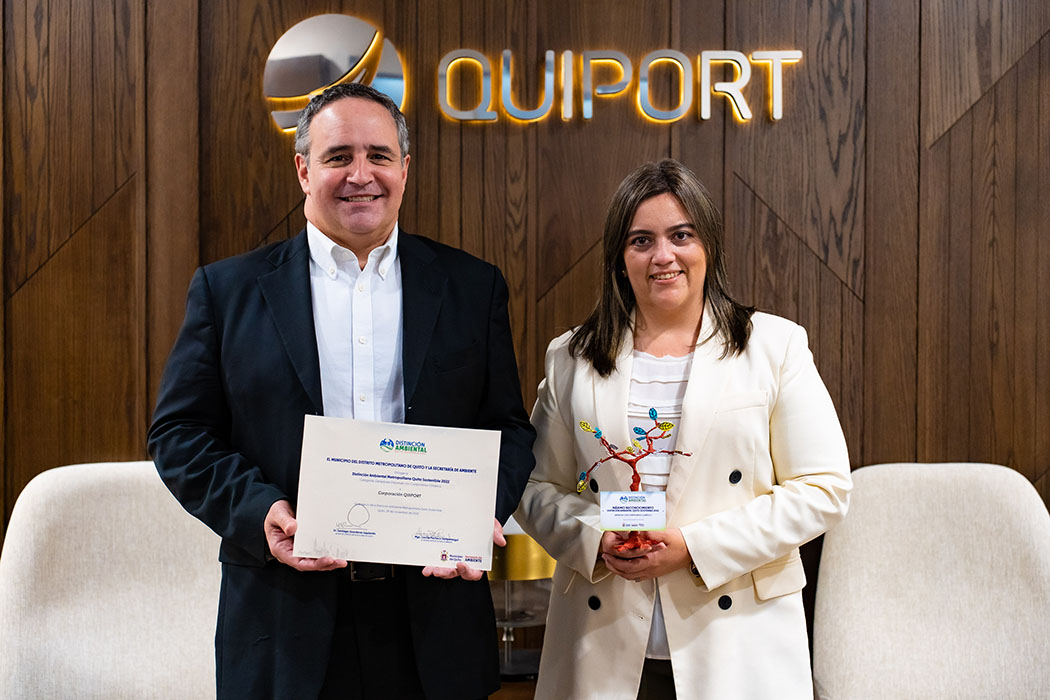 Corporación Quiport received for the third time the Quito Sostenible Metropolitan Environmental Distinction, granted by the Ministry of the Environment of the Municipality of Quito. The purpose of this recognition is to reward good environmental practices and the efforts made to reduce environmental footprints (carbon and water) that contribute to making Quito a better city to live in.
During this year, in the months of August and September, four teams made up of technical personnel from the Ministry of the Environment were deployed, who, in their capacity as technical jury, verified in situ the actions implemented in environmental matters by the participants. As a result of the evaluations, the jury awarded Corporación Quiport S.A. the Quito Sostenible Metropolitan Environmental Distinction 2022, within the category Winners Companies with Climate Commitment.
One of the parameters that obtained a higher score in the evaluation was information management, a key element that allows adequate resource management and facilitates fast decision-making and the application of corrective measures. The other great chapter that obtained a high evaluation was water footprint management. It is important to remember that the Quito airport has a sewage treatment plant that allows the discharge of treated water into the environment that meets national and international environmental parameters.
Ramón Miró, president and CEO of Corporación Quiport, pointed out that this recognition is the result of a long-term commitment by the company with concrete and effective actions that reduce the environmental footprint of the company's operation. "We have an ethical obligation to the city, the country and the world. Companies cannot remain undaunted by the urgent need to do something so that our activity affects the environment as little as possible. Sustainability cannot only be a corporate discourse, it has to be seen in the facts", said Mr. Miró.
The eighth edition of this recognition was delivered in a special ceremony held on Tuesday, November 29, 2022 in the halls of the Hilton Colón hotel in Quito.